Planet ROS
Planet ROS - http://planet.ros.org
Planet ROS - http://planet.ros.org
http://planet.ros.org
---
ROS Discourse General: Unity releases ROS support. Autoware LGSVL Sim CycloneDDS work too
Unity has released support for ROS

Also Autoware Foundation developer default RMW Eclipse Cyclone DDS "just works" in Unity 3D and LGSVL Simulator because it is a pure C implementation without conflicting dependencies. Which is why LG adopted Eclipse Cyclone DDS for their Unity LGSVL Sim.
1 post - 1 participant
https://discourse.ros.org/t/unity-releases-ros-support-autoware-lgsvl-sim-cyclonedds-work-too/17504
ROS Discourse General: ROS News for the Week of 11/16/2020
DARPA SubT Virtual Cave Circuit Results
ROS World Sessions
and all the
lightning talks
have been posted.
Events
News
DARPA SubT
ROS Packages / Hardware
ROS Questions
1 post - 1 participant
https://discourse.ros.org/t/ros-news-for-the-week-of-11-16-2020/17468
ROS Discourse General: Introducing Reachy, an open-source humanoid robot which runs ROS
Hello ROS Community!
I am from a French start-up, Pollen Robotics, and we are developing Reachy, an open-source humanoid (both hardware and software) robot.
As former researchers, we wanted to design Reachy to explore robotics challenges in open environments, in particular object manipulation, human-robot interaction and machine learning. Reachy can be a powerful tool for research.
We truly believe open-source is the way to go to push robotics forward. And so we naturally decided to make Reachy rely on ROS and its community. We added the possibility of doing manipulation with ROS with a description package containing the URDF and a moveit package. You can check out our Medium post where we present this: Reachy, open-source humanoid robot runs ROS Noetic.
You can play with these packages at home, a simulation tool is also available here to play with Reachy using our python API.
You can also check our website https://www.pollen-robotics.com for more information or watch this video that we made for CES 2020.

Cheers!
2 posts - 2 participants
https://discourse.ros.org/t/introducing-reachy-an-open-source-humanoid-robot-which-runs-ros/17465
ROS Discourse General: ROS 2 to micro-ROS TCP tunneling via Integration Service!
Here at eProsima we have been working on a new exciting demo combining some of our cutting-edge technologies! The demo shows how two separate ROS 2 dataspaces hosted by distinct subnets can be put into communication over the internet thanks to Fast DDS TCP capabilities and to Integration Service, the tool enabling intercommunication of any protocol with DDS. The setup consists in a ROS 2 node publishing velocity directives via WAN to a Turtlesim application and to a micro-ROS node operating a Kobuki Turtlebot2, both running on the remote hub.
Find the video of the demo here.
In the first dataspace we have a ROS 2 publisher sending data over a Twist type message. More in detail, a joy node is in charge of obtaining displacement commands from a gamepad, which are then converted into ROS 2-understandable Twist type messages by a second teleop_twist_joy node.
The second dataspace handles two subscriptors which receive the Twist topic sent by the teleop_twist_joy node. The first subscriptor is a Turtlesim application, in charge of displacing the classic virtual turtle in its graphical interface according to the indications received by the remote node. The second subscriptor is a micro-ROS Client, communicated with the ROS 2 datapace via an Agent which allows it to subscribe to the Twist topic. With the data received, micro-ROS is in charge of instructing a Kobuki Turtlebot2, operated by an ESP32 MCU running FreeRTOS, to move accordingly.
The remote communication is mediated by Integration Service, which is able to translate the ROS 2 messages into a language understandable by Fast DDS, and thanks to the TCP capabilities of the latter it connects via WAN the instances launched in the two subnets. Thanks to this, we can see how both the Kobuki robot and the Turtlesim are moving as they are being operated by the remote gamepad.
1 post - 1 participant
https://discourse.ros.org/t/ros-2-to-micro-ros-tcp-tunneling-via-integration-service/17453
ROS Discourse General: ROS World Talks Are Posted!
I am happy to announce that yesterday we finished uploading all of the ROS World videos, including all the lightning talks. I have included both the sponsor videos and lightning talks as they were presented in the main program along with all the lightning talks that were submitted. We received about sixty-five lighting talks and all of them were excellent. We only had fourteen lightning talk slots available in the final program and unfortunately quite a few great videos ended up on the cutting room floor. Over the next week or so I'll link all the videos to the ROS World website.
Main Program
Full ROS World program Vimeo showcase
Lightning Talks
The full Vimeo showcase can be found here.
Thanks and Shout Outs
I want to thank everyone who made ROS World possible including:
Our wonderful speakers and panelists
Everyone who submitted a lighting talk
The ROSCon diversity committee
The OpenCV team
The Autoware Foundation
The Dronecode foundation
Robotis
FIWARE
The MoveIt team
The team at Open Robotics
Our fantastic event planner Meet Green.
Finally, I want to thank our sponsors for their generous support of ROS World!
3 posts - 3 participants
https://discourse.ros.org/t/ros-world-talks-are-posted/17436
ROS Discourse General: Live Webcast: DARPA SubT Cave Circuit Virtual Competition
Hi All,
Just a quick update, 2020-11-17T19:00:00Z, DARPA is releasing a webcast of the Subterranean Challenge Cave Circuit Virtual Competition. Due to the complexities related to the COVID-19 pandemic, the Cave Circuit has gone fully virtual and DARPA and the Open Robotics crew have been working hard to expand the features available in this round including some interesting video capture capabilities. The whole process itself is really interesting as Open Robotics has been hard at work digitizing the cave environment, modeling some of the Systems Competition robots and their capabilities, creating simulation tutorials, and executing the simulations. This lightning talk from ROS World gives a quick teaser for the event.
I would highly encourage you to tune in and watch the event tomorrow, and take a look at the SubT Hello World tutorials to get more familiar with the software that makes it happen.
9 posts - 5 participants
https://discourse.ros.org/t/live-webcast-darpa-subt-cave-circuit-virtual-competition/17373
ROS Discourse General: New ROS 2 TSC Member: Wind River
I'm happy to announce that we're welcoming a new member to the ROS 2 TSC:
Andrei Kholodnyi, representing Wind River
We look forward to seeing continued significant contributions to ROS 2 from Andrei and his colleagues at Wind River.
3 posts - 3 participants
https://discourse.ros.org/t/new-ros-2-tsc-member-wind-river/17372
ROS Discourse General: Colcon Build from Any Directory and Need to Re-build for changes in Launch file
New to ROS2 and Nav2 here.
Currently my directory structure is like this : home>nav2_ws>src>navigation2. I need my build and install directory to be in nav2_ws. For which currently I call colcon build --symlink-install while in ~/nav2_ws. In ros1- catkin build, i used to call it from anywhere in the workspace (after initialisation), and it used to build it at the same location. Is there a quick way to set a single build space and install space in colcon, so that colcon build could be called from anywhere in the workspace?

wihle using colcon build --symlink-install, it 'installs' the workspace, due to which ros2 launch uses all the launch files from the "share" directory (not from the src directory). Now if we change anything in the launch file (src dir) , it won't be reflected in share directory unless we again do colcon build --symlink-install. Is there way to simplify this? so that user doesn't have to build it again and again for changes in the launch file?
ps: I am currently reading through the colcon doc to find a solution.
3 posts - 2 participants
https://discourse.ros.org/t/colcon-build-from-any-directory-and-need-to-re-build-for-changes-in-launch-file/17353
ROS Discourse General: ROS News for the week of November 11th, 2020

Dirk is leaving Open Robotics, but he left us this parting gift.
Mashup compliments David Lu!
News for the Week of 11/8/2020
Events
News
ROS Related
ROS World
Lightning Talks
Questions of the Week
3 posts - 3 participants
https://discourse.ros.org/t/ros-news-for-the-week-of-november-11th-2020/17321
ROS Discourse General: ROS Rust WG Meeting: 2020-11-18
Hello rustaceans!
The next ROS Rust Working Group meeting will be: 2020-11-18T15:00:00Z
Thanks for filling out the Doodle from the previous post to pick the next meeting time. I picked the most popular slot earlier in the day to accommodate our guest speakers from Europe with ATOLabs and ADLINK, who will be presenting and demoing Zenoh and zenoh-plugin-dds:
For more background, you can checkout @joespeed 's recent posts on the subject here:
---
Agenda
Please comment to suggest any item updates to the agenda.
Introductions
Zenoh presentation and demo
Q/A with open discussion
Regular status updates
---
Minutes
As an update, the meeting minutes have been posted and can be reviewed here:
The video recording the meeting has been uploaded and can be viewed here:
Also, you can now chat with the group via matrix at +rosorg-rust:matrix.org . Feel free to join the community as well as the current room, so you can easily see when more specific rooms are added.
3 posts - 2 participants
https://discourse.ros.org/t/ros-rust-wg-meeting-2020-11-18/17313
ROS Discourse General: Roscompile: ROS World Lightning Talk
Because not everyone is on Twitter here's my lightning talk that was presented at ROS World yesterday.
(Note: Closed captions available)
Short Description: roscompile is the easy command-line tool for fixing common ROS meta-data errors and cleaning up ROS packages. It's built on the ros_introspection, a Python library for examining all the components of your ROS packages programmatically, making it exceedingly easy to create scripts that automate the tedious parts of being a ROS developer.
Repo: https://github.com/DLu/roscompile
Historical discussion: http://ros-users.122217.n3.nabble.com/New-Tool-roscompile-Catkin-Metadata-Helper-td4022035.html
New Features Since 2015:
Lots of new cleanup functionality
Interactive changes
Script for Noetic Migration
Script for upgrading package.xml to 2 OR 3
Beta support for magical_ros2_conversion_tool
1 post - 1 participant
https://discourse.ros.org/t/roscompile-ros-world-lightning-talk/17312
ROS Discourse General: Webots ROS2 lighning talk at ROS World 2020
Hi all,
Following-up on the Webots ROS2 lighting talk at ROS World 2020, it was a nice surprise to discover that later in the very same video, Nobleo Technology was showcasing a very nice autonomous pallet truck simulation using Webots ROS2.
We are also very proud to announce that we fully tested the latest Webots ROS2 Foxy packages (released last week) and were very satisfied with their quality level. These packages could now be considered as production ready. So, let me encourage you to give them a try and report any feedback about them.
We will continue to support the ROS2 community with improved versions, documentation and user support, as we feel a growing interest and we are receiving funding for that from several EU research projects, including ROSin, OpenDR and other upcoming projects.
1 post - 1 participant
https://discourse.ros.org/t/webots-ros2-lighning-talk-at-ros-world-2020/17306
ROS Discourse General: Thank You & Farewell
Hello ROS community,
I have been working on ROS for almost 9 years - shipping 15 ROS distributions - and have very much enjoyed my time on this project - the challenges as well as milestones. I am especially grateful to have seen the growing excitement and contributions over the past years.
Though I have recently accepted another opportunity and I am looking forward to the next step in my career. I will certainly miss working on ROS and with each one of you.
Please feel free to keep in touch. You can reach me here on Discourse or on GitHub.
Thank you and best regards!
- Dirk
15 posts - 15 participants
https://discourse.ros.org/t/thank-you-farewell/17297
ROS Discourse General: [Hot take] Lightning talks selected for ROS World 2020
Judging by the lightning talks that were selected, is this a conference for investors or developers of ROS projects?
11 posts - 7 participants
https://discourse.ros.org/t/hot-take-lightning-talks-selected-for-ros-world-2020/17275
ROS Discourse General: ROS + Docker: Pro Tips and 20/20 Hindsights
Hey folks! Some of you may have spotted my Lightning Talk during ROSWorld 2020
The talk includes numerous tips and insights I've accrued since my first ROSCon talk from 2015.
Given the stream resolution and content density, I figured folks would appreciate a high definition version, including closed captions for non-native speakers or for the deaf and hard of hearing:
As well as the PDF slides that include all the embedded reference hyperlinks:
ROSWorld2020 - ROS + Docker Pro Tips.pdf (3.4 MB)
I hope these patterns help save you just as much time as they do when developing Navigation2.
For a more extensive writeup, checkout the CI design docs I've been adding to Navigation2 here:
If you have any questions about this, I'd be happy to do a Q&A on it here.
Cheers,
Ruffin
1 post - 1 participant
https://discourse.ros.org/t/ros-docker-pro-tips-and-20-20-hindsights/17274
ROS Discourse General: All-New ROS2 Navigation Logo!
Hi all, friendly neighborhood navigator here.
I wanted to tell you about some hot news! The Nav2 system has an all-new logo and branding (referred to as "Nav2" no longer "Navigation2") that we'll be expanding in the coming days and weeks. For a quick first look timed to be released with ROS World 2020, here's the new Nav2 logo and wireframe:
It's also now reflected on our README and documentation https://navigation.ros.org!
This was all made possible by the awesome people that purchased the ROS Jackets earlier in the year. The proceeds of that were used to work with a designer to create these awesome graphics. I couldn't be more happy with how it turned out and by user surveys, most of you agree! I know, I know, Nav2 doesn't work with hot air balloons (yet
), but its a really aspirational goal and I think a logo like this is both literally and symbolically uplifting. I hope that it can help bring our community to new heights and give a bit of professional polish. Before I descend into even worse puns, I bet you have a question you're flying at your keyboard to ask:
What's next? Oh boy, thanks for asking
Tee Shirts!
Socks!
Enamel Pins!
Collectable Commemorative Plates!
Permanent Face Tattoos!
Well, perhaps one or two of those are hyperbolic, but I will be excited to make some stickers and pins
If people in the community would like other Nav2 swag, I'm sure I can make it happen. I'm starting to have my gears turn a little bit for ROSCon 2021 if we can arrange some hot air balloon rides…
Happy Ballooning,
Steve
4 posts - 3 participants
https://discourse.ros.org/t/all-new-ros2-navigation-logo/17262
ROS Discourse General: New ROS ecosystem paper
Just wanted to share our recently published paper on the ROS community. "It Takes a Village to Build a Robot: An Empirical Study of The ROS Ecosystem", check it out: https://ieeexplore.ieee.org/abstract/document/9240632
I'll be speaking on the Software Quality panel tomorrow at ROS World, hope to see many of you there!
8 posts - 7 participants
https://discourse.ros.org/t/new-ros-ecosystem-paper/17261
ROS Discourse General: Eclipse debugging C++ ROS node which is called from launch file
Hi everyone ,
I am using eclipse to debug moveit2.
In the Moveit2 demo launch files (python):
ros2 launch run_move_group run_move_group.launch.py,
a lot of parameters (e.g. urdf robot models) are loaded from configuration files. These parameters are then parsed to the excutable (C++).
I want to use eclipse to debug the C++ executable. However, I cannot attach my debugger to the process as the launch file and therefore process is python based.
Also I cannot run the single executable:
ros2 run run_move_group run_move_group
As all the parameters are missing.
Can anyone recommend a work flow to debug C++ ROS2 nodes that are executed by python launch files in eclipse?
Thanks a lot
4 posts - 2 participants
https://discourse.ros.org/t/eclipse-debugging-c-ros-node-which-is-called-from-launch-file/17243
ROS Discourse General: New packages for Melodic 2020-11-11
We're happy to announce the next update of ROS Melodic. There are 42 new packages as well as 201 updated packages. Full details are below.
Package Updates for melodic
Added Packages [42]:
Updated Packages [201]:
Removed Packages [5]:
ros-melodic-robotnik-msgs
Thanks to all ROS maintainers who make packages available to the ROS community. The above list of packages was made possible by the work of the following maintainers:
AWS RoboMaker
Adrien BARRAL
Alexander Bubeck
Alexander Gutenkunst
Atsushi Watanabe
Austin Hendrix
AutonomouStuff Software Development Team
Benjamin Maidel
Bota Systems AG
Błażej Sowa
Chris Lalancette
David V. Lu!!
Dirk Thomas
Felipe Garcia Lopez
Felix Messmer
Felix Ruess
Felix Zeltner
Florenz Graf
Florian Weisshardt
Franka Emika GmbH
G.A. vd. Hoorn
Hadi Tabatabaee
Harshal Deshpande
Harshal Heshpande
Hilario Tome
Jacob Perron
Jannik Abbenseth
Jon Binney
Joshua Hampp
Kei Okada
Kevin Hallenbeck
Laure LE BRETON
Loy van Beek
Marc Alban
Martin Günther
Matthias Gruhler
Michael Ferguson
Mike Purvis
Monika Florek-Jasinska
Naoya Yamaguchi
Olivier Stasse
Richard Bormann
Robert Haschke
Ryohei Ueda
Septentrio
Sergey Dorodnicov
Stefan Fabian
Tobias Roth
Tony Baltovski
Tyler Weaver
Veiko Vunder
Vladimir Ermakov
Will Son
William Woodall
Yasuto Shiigi
Yohei Kakiuchi
Yusuke Furuta
davidfernandez
furuta
1 post - 1 participant
https://discourse.ros.org/t/new-packages-for-melodic-2020-11-11/17239
ROS Discourse General: CI Security ROS benchmark
Hi, the latest The State of Robotics on Ubuntu blog mentions a ROS securing guideline created by CI Security. It links to https://www.cisecurity.org/benchmark/ROS/ . I've registered there, opened the link sent by email, but there is still no button to download the PDF. Did anyone succeed?
19 posts - 6 participants
https://discourse.ros.org/t/ci-security-ros-benchmark/17235
ROS Discourse General: ROS 2 Security Working Group Meeting (10 Nov 2020)
The next ROS Security Working Group meeting is scheduled for 2020-11-10T17:00:00Z → 2020-11-10T17:30:00Z. Please feel free to add any discussion topics to the agenda.
Join us online at meet.google.com/qaf-sixa-ixc, or by phone at (‪US‬) ‪+1 617-675-4444‬,
PIN: ‪570 554 328 2853#‬
1 post - 1 participant
https://discourse.ros.org/t/ros-2-security-working-group-meeting-10-nov-2020/17181
ROS Discourse General: ROS News for the week of November 2nd

Jacques Cousteau voice: Mission Robotics is taking ROS 2 to the bottom of the sea.
ROS WORLD is less than a week away. I just updated the schedule, check it out.
ROS News for the Week of 11/2/2020
ROS WORLD
Be aware, that the best things you can do to help support ROS World are to spread the word about the event and register to visit a vendor booth. If you see a vendor that interests you please take a moment to meet with them.
Events
News
ROS Packages
ROS World Lightning Talks
Sorry about these all being Twitter links. I should have a feature length video up after ROS World.
ROS Questions
Got something cool to announce, please drop it in the comments.
2 posts - 2 participants
https://discourse.ros.org/t/ros-news-for-the-week-of-november-2nd/17161
ROS Discourse General: Comepetion run by Sellafield: Standardised robotic control architecture for Sellafield
"Sellafield are seeking to move towards a robot control system that can provide a modularised 'plug-and play' hardware reconfiguration solution"
After reading the challenge statement it sounds like ROS2 overcomes all of these challenges.
What are your thoughts on Sellafield pursuing a new framework instead of using ROS2, which seems to meet their requirements?
Could ROS Industrial enter this competition?
11 posts - 9 participants
https://discourse.ros.org/t/comepetion-run-by-sellafield-standardised-robotic-control-architecture-for-sellafield/17158
ROS Discourse General: New Packages for Foxy Fitzroy 2020-11-05
We're happy to announce new packages and updates for Foxy Fitzroy!
Package Updates for foxy
Added Packages [27]:
Updated Packages [52]:
Removed Packages [0]:
Thanks to all ROS maintainers who make packages available to the ROS community. The above list of packages was made possible by the work of the following maintainers:
Alejandro Hernandez Cordero
Anup Pemmaiah
Arne Nordmann
Bence Magyar
Chris Lalancette
Cyberbotics
Dirk Thomas
Emerson Knapp
Enrique Fernandez
Erik Boasson
Esteve Fernandez
Evan Flynn
Felix Ruess
Gareth Cross
Hadi Tabatabaee
Jacob Perron
Jeffrey Kane Johnson
Jose-Luis Blanco-Claraco
Karsten Knese
Martins Mozeiko
Michael Lehning
P. J. Reed
Veronica Lane
Vladimir Ermakov
Will Son
William Woodall
1 post - 1 participant
https://discourse.ros.org/t/new-packages-for-foxy-fitzroy-2020-11-05/17140
ROS Industrial: Collaborative Robot Sanding with ROS2 for Aerospace Applications
Starting in mid-2019, a project led by Spirit AeroSystems and funded by the ARM Institute kicked-off around an idea to develop a complete Collaborative Robotic Sanding application. The goal was to have the robot do the 80% of the repetitive sanding tasks, while the process experts performed the detailed work and oversaw the robot's work and could identify areas that needed additional processing. The objective was to find an effective balance between the benefits of automation and highly skilled manufacturing personnel.
This effort involved multiple organizations in which the Southwest Research Institute (SwRI) team, led by Jorge Nicho, sought to leverage a number of the emerging developments around ROS2, and create a complete and functional application in ROS2 that could be a stake in the ground for how to build industrial applications in ROS2. It had been noted at a prior ARM Institute meeting that the stakeholders were interested in the development and maturation of ROS2, so this project became a great opportunity to step forward and build an application in ROS2.
In parallel with this project, from the SwRI/ROS-I Americas perspective, was also the providing of a ROS-Industrial training, and assisting the Wichita State University partner, in identifying suitable curriculum elements around ROS to be incorporated into their academic programs. A key outcome would be the pilot of a ROS-based introduction to advanced robotics systems to be provided as part of the technical program at Wichita State. Such a program would assist in the realization of technician skills relative to working with ROS-based systems.
New Capabilties Developed within the Program
As far as the application development, two new features needed to be developed. The first was the ability for the robot to apply a constant force and tool speed during the execution of the sanding process trajectories. The selected robot, Universal Robots UR10e, has force-feedback feature, but simultaneous control of constant force while executing a trajectory at a constant velocity was not readily available out of the box. A recent blog post over at the SwRI Innovations in Automation blog details that specific development.
Second, in order to enable human to robot collaboration, it was desired that the operators could mark directly on the part in order to indicate an area that needed additional processing. Then the system would recognize the marks and only process within the marked regions. There will be more details on those two new developments forthcoming.
The ROS2 application leveraged Gazebo, Figure 1, to allow for richer emulation of the depth sensors and robot trajectory execution. This aided with development and verification of the localization technique, as the parts could be easily located within the working envelope of the simulated system. The ros_scxml package was utilized for creation of the application state machine, Figure 2, simplifying the state machine creation process, and allowing for more efficient updating as the application matured.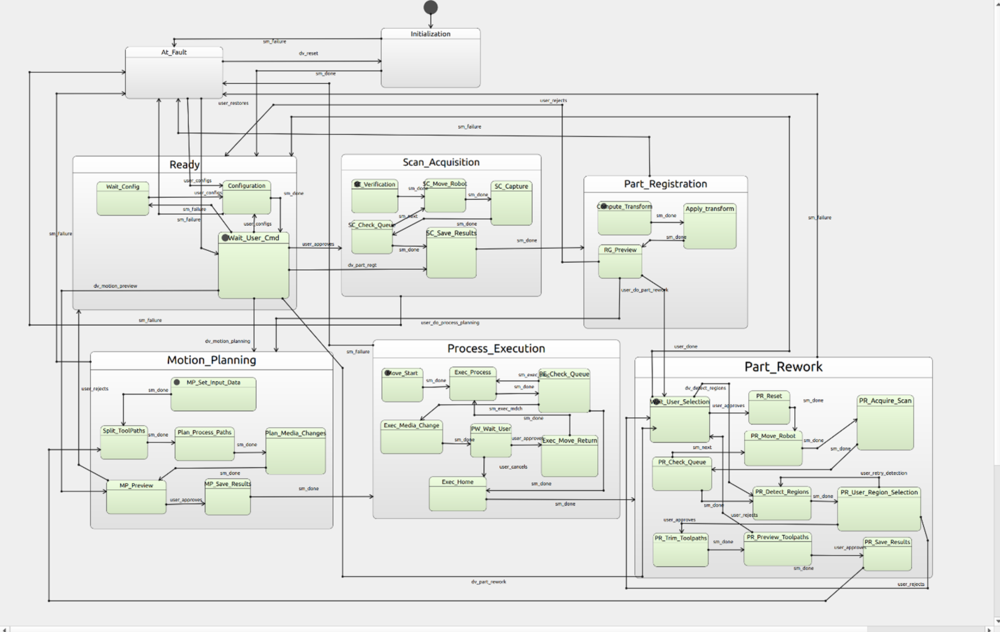 Some other additional features, such as the ability to understand reachability in the context of the part were included and the output can be seen in the below figure.
The development resulted in an application, complete with Graphical User Interface, Figure 4, integrated at WSU (Wichita State University) and in collaboration with Spirit AeroSystems. Post integration, the system was tested against the requirements for successful sanding of the part in TRL 6 testing trials. Initially there were some performance limitations. First, when using the manipulator for application of force it was found that performance of the force application degraded as the manipulator extended into a near-singularity configuration. This has an impact on what regions may be effectively processed, as for optimal force application and execution there is a relationship between the efficiency of the force response and the configuration of the arm, i.e. the arm being fully extended outward from the base attempting to process a distant surface area.
Bridging ROS2 with ROS1-Based Manipulator
Additionally, the manipulator currently only has a ROS1 interface. Since the application was built in ROS2 then the team had to leverage the ROS-to-ROS2 bridge. While this works to drive basic functionality, there were issues with the reliability of the communication between the application and the manipulator. This has been established as an area for continuous improvement and an effort to support the development of a ROS2 interface for Universal Robots is underway, with support from PickNik, Spirit AeroSystems, TU Delft, FZI Research, SwRI, and of course Universal Robots.
Overall, this was a successful program, and the key metrics for the top-level program were realized once it was understood how to best leverage the solution as developed. A final demonstration video, included below, was produced by the Spirit AeroSystems team. We believe the software-side of the application will be a complete example of a ROS2-based industrial application and we hope that the community will find it of interest. The application repository may be currently found at: https://github.com/swri-robotics/collaborative-robotic-sanding
Thanks to our partners at Spirit AeroSystems and Wichita State University for their collaboration, feedback, and partnership on this project. Thanks to the ARM Institute as well for their support.
https://rosindustrial.org/news/2020/11/5/hbxkihnrz8hjiwidgr16m9hrd4faa7
---