Please ask about problems and questions regarding this tutorial on answers.ros.org. Don't forget to include in your question the link to this page, the versions of your OS & ROS, and also add appropriate tags.
Behavior Trees
Description:
Behavior Trees Intro
Keywords:
decision_making
Tutorial Level:
BEGINNER
Next Tutorial:
decision_making/Tutorials/BehaviorTree(C++)
Introduction
We would like a system that is more general the FSMs,more structured than programs, and lighter weight than planners. Behavior trees were developed by Geoff Dromey in the mid-2000s in the field of software engineering, which provides a modular way to define software in terms of actions and preconditions. They were first used in Halo 2 and were adopted by a number of other games such as Spore.
HTN + HSM = Behavior tree
HTN - Hierarchical task network (planning)

Goal directed but ignores execution

HSM - Hierarchical finite state machines

Reactive (state oriented) but not goal oriented
Intuitive but worksome

Behavior tree

Task-oriented rather than state-oriented
Modular, reusable behaviours
Can easily be built up into hierarchies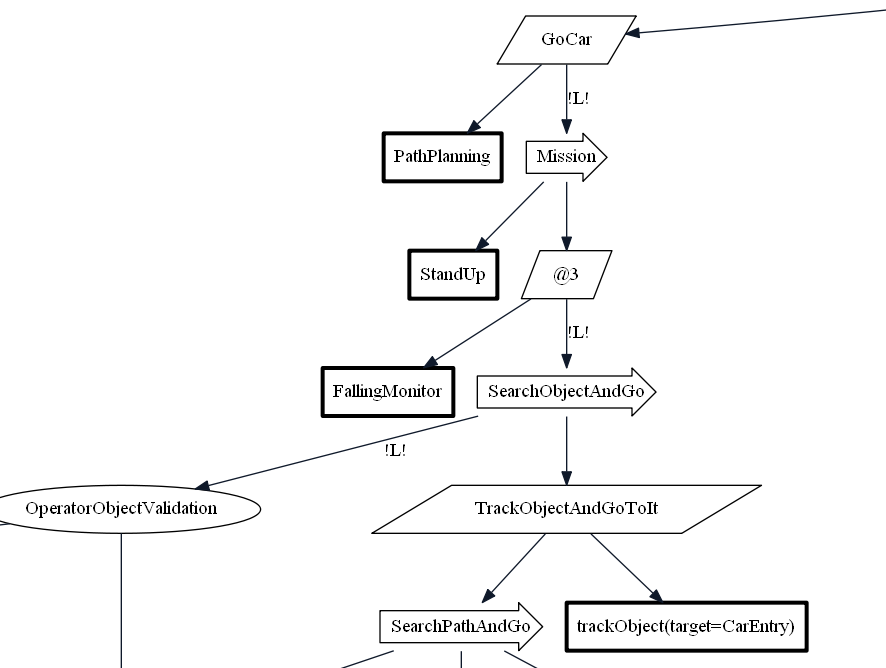 Behavior tree building blocks
Tasks [boxes] - A preemptive task. Can be a local function or an actionLib call, will return true, false or error code.
Sequencer [right arrow] - all tasks until one fails
Selector [circle] - all tasks until one succeed
Parallel [parallelogram] - do in parallel all tasks connected
Decorator [text on the edges] - filters on return values (and execution)
The behavior tree snippet above reads:
Goto car and in parallel plan paths while doing the mission
During the mission first stand up and then in parallel monitor not to fall while searching for an object and going towards it
The object is first validated by an operator, and then tracked while the robot approaches it... etc...
!L! is a while decorator. It continues as long as the task returns false. It is used in the scenario above to assure that if the mission fails if will be re-run, if the object serch and go failed it will be re-run, and if the operator did not respond the rutine will be executed again.
Reading material
FSM, HSM and Behavior treeshttp://www.cs.umd.edu/class/spring2013/cmsc425/Lects/lect20.pdf

Behavior trees http://aigamedev.com/insider/-presentations/behavior-trees/