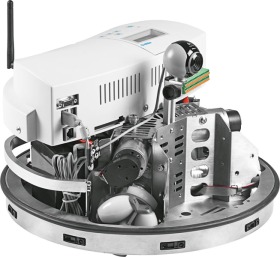 Overview
The robotino stack offers a set of packages which are as follows:
The robotino_description package contains the xacro files and meshes for Robotino.

The robotino_local_move package enables Robotino to be moved or rotated precisely using actionlib goals.

The robotino_local_planner package implements a local planner for Robotino.

The robotino_msgs package defines certain custom messages for Robotino.

The robotino_navigation package contains launch and config files which enable Robotino to perform complex tasks such as mapping and autonomous navigation under ROS.

The robotino_node package is a ROS wrapper that wraps the native RobotinoAPI2 running on Robotino.

The robotino_safety package controls velocities sent to Robotino to avoid potential collisions.

The robotino_teleop package enables Robotino to be controlled remotely using either a joystick or a keyboard.
Bug reports and support
Please direct all your queries regarding feature requests, bug reports and other help to the Openrobotino Forum.