Description
This package has not been released yet. Anticipated release in Fall of 2018.
Xbox 360 Controller Button Mapping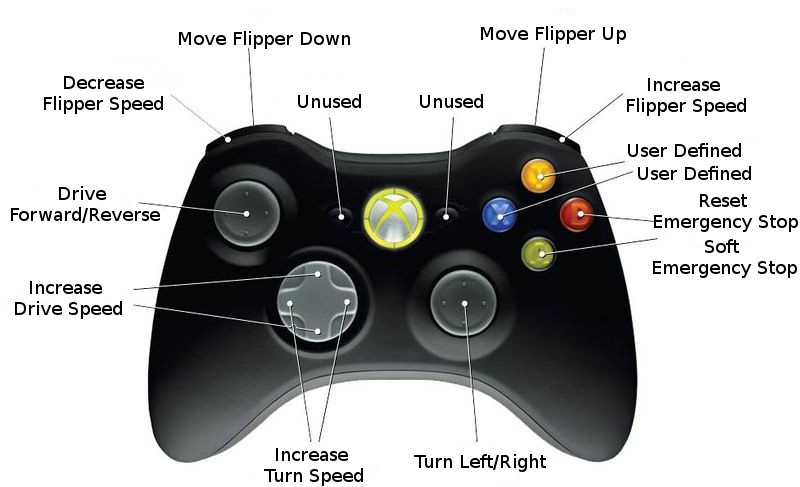 Nodes
openrover_control_input_manager_node
This package manages different control inputs from local, remote sources. It manages which input has priority, and solves the issue of multiple sources published to cmd_vel at the same time.
Subscribed Topics
/cmd_vel/joy
(
geometry_msgs/TwistStamped
)
input from a controller that is directly connected to the robot. We recommend using a wireless xbox 360 controller and a dongle. We also recommend using xboxdrv instead of xpad as the driver.
/cmd_vel/autodock
(
geometry_msgs/TwistStamped
)
input from the rr_autodocking package
/cmd_vel/move_base
(
geometry_msgs/Twist
)
/joystick
(
sensor_msgs/Joy
)
Published Topics
/cmd_vel/joystick
(
geometry_msgs/TwistStamped
)
A cmd_vel topic reserved for joystick input
/a_button
(
std_msgs/Bool
)
True is published to this topic once when the a_button is pressed
/b_button
(
std_msgs/Bool
)
True is published to this topic once when the b_button is pressed
/x_button
(
std_msgs/Bool
)
True is published to this topic once when the x_button is pressed
/y_button
(
std_msgs/Bool
)
True is published to this topic once when the y_button is pressed
/joystick/delay
(
std_msgs/Float32
)
rr_xbox_mapper_node
This node inputs joystick commands from an Xbox 360 controller and outputs /cmd_vel/joystick