Package Summary
Metapackage allowing easy installation of velo2cam_gazebo components.
Package Summary
Metapackage allowing easy installation of velo2cam_gazebo components.
Overview
This package includes Gazebo models, plugins and worlds of several sensors and calibration targets to help the process of designing and testing algorithms for extrinsic calibration of lidar-camera pairs. Package developed at Intelligent Systems Laboratory, Universidad Carlos III de Madrid.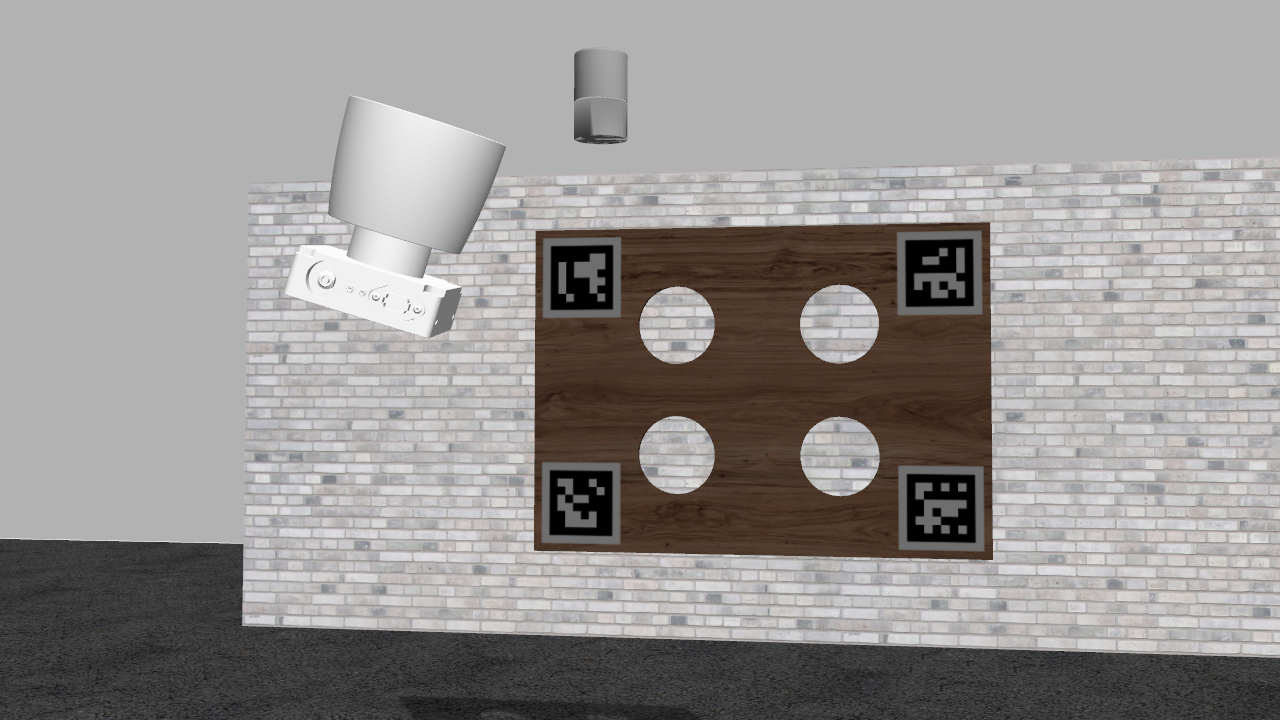 Supported sensors
Bumblebee XB3 Camera
Velodyne VLP-16
Velodyne HDL-32
Velodyne HDL-64
Gazebo models
This repository includes several sensors and calibration target models to evaluate the performance of extrinsic calibration of lidar-camera pair in the Gazebo Simulator.
Note: The models included in this repository were designed for evaluating the LIDAR-camera calibration algorithm described in [1], whose code is provided here.
Sensors
Bumblebee XB3 Camera (Left - center only)

Velodyne VLP-16 (Based on DataspeedInc)

Velodyne HDL-32 (Based on DataspeedInc)

Velodyne HDL-64 (Since 3D meshes are not available, those of HDL-32 model are used instead)
Calibration target
Calibration pattern with wood (maple) texture
Calibration pattern with chessboard texture

Chessboard planes for recreating worlds required to test the KIT Calibration Toolbox
Gazebo plugins
Velodyne plugin providing sensor_msgs/PointCloud2 with same structure as driver (x, y, z, intensity, ring) and simulated Gaussian noise. (Code from DataspeedInc, although minor patch for vertical resolution issue is included)
Known Issues
Gazebo can take up to 30 seconds to load the VLP-16 plugin, 60 seconds for the HDL-32E, and much more HDL-64E
Gazebo cannot maintain 10Hz with large pointclouds

Solution: User can reduce number of points in urdf
Example Gazebo Calibration Scenario
roslaunch velo2cam_gazebo real_stereoVLP16_trans.launch
Citation
[1] Guindel, C., Beltrán, J., Martín, D. and García, F. (2017). Automatic Extrinsic Calibration for Lidar-Stereo Vehicle Sensor Setups. IEEE International Conference on Intelligent Transportation Systems (ITSC), 674–679.
Pre-print available here